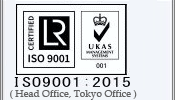 Head Office
 2-22, Sakaemachi-dori 5-chome,
 Chuo-ku, Kobe 650-0023, Japan
 Phone:078-351-2202
 Fax:078-371-0306

 Tokyo office
 18-1, Kaigan 3-chome,
 Minato-ku, Tokyo 108-0022,
 Japan
 Phone:03-5232-3773
 Fax:03-5232-2822

 Singapore office
 112 Robinson Road,
 #07-03/04, Room #17
 Singapore 068902
 Phone:65-6221-3486
 Fax:65-6221-3489






<For further product information or quotations, contact:>
(MARINE TECHNOLOGY GROUP) Phone: 078-351-2204/5 Fax: 078-351-6354
marintec1@misuzu-mac.co.jp

Cargo control system

<System for efficient and safe cargo handling>
During cargo loading/unloading, the operator can check ever-changing cargo information on the cargo console monitor and control cargo handling to ensure efficiency and safety in unloading or loading ships.

Accessories
*Intrinsically safe explosion-proof electromagnetic valve/valve position indicator
*Self-stripping system
*Compact hybrid console (graphic touch panel, CRT display, computer control, etc)
*Multiplex transmission system

Ballast valve control system

<Reliable and labor-saving system for ballast optimization>
The system enables central control or automatic control of ballast valves and related valves through the console according to measurement data from various meters.

Accessories
*Auto Heel Control System

HYDLE

An innovative device which replaces the conventional reach rod type.
20,000 units were sold since its introduction into the market.

The device eliminates troublesome rigging and adjustment work and solves the problem related to steering wheel weight or fluctuation.It reduces maintenance cost and enjoys high reputation among ship owners and shipbuilders.




Misuzu-Pleiger Electric Hydraulic Device

This product is a device for ballast, bilges and cargo which has a decentralized electric hydraulic structure instead of the conventional hydraulic structure.The device incorporates a self-priming pump unit and its drive module and control module are electrically independent from each other.

The device can be easily connected with any centralized alarming/monitoring and control system.The IP68 protection structure, combined with a valve disc opening information system, offers an ideal system for each on-board application.The valve disc opening position information can be switched between two modes: "opening/closing" and "opening degree."The device is available in explosion-proof, enclosed and submerged types.

The use of this electric hydraulic device eliminates the need for a hydraulic pump unit, a starter and piping work.This leads to savings in material cost, installation time, setup/adjustment cost and installation space.

Since its introduction into the market in 1994, the device has been installed in more than 400 ships each year.

This unit is used to control a hydraulic valve utilizing a pneumatically-driven hydraulic pump as a hydraulic source.When it is built in a control stand, there is no need for a hydraulic pump and an on-deck main line and installation cost is thus saved.
Pneumatic/hydraulic valve control unit
Hydraulic butterfly valve

| | |
| --- | --- |
| | Pneumatic/hydraulic circuit diagram |

Gas-tight model

In the past, fires frequently occurred in bellies of vehicle carrier ships and development of partition gas-tight doors which can be easily opened and closed was anticipated.In response to the request from shipping companies, we developed a gas-tight model in early 1982.The product meets the fire-protection construction requirement of the SOLAS convention amended in 1981.Up till now, the product has been installed in more than 100 ships.


Motorized valves


Pneumatic valves
<For further product information or quotations, contact:>
( MARINE-TECH GROUP) Phone: 078-351-2204/5 Fax: 078-351-6354
marintec1@misuzu-mac.co.jp