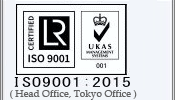 Head Office
 2-22, Sakaemachi-dori 5-chome,
 Chuo-ku, Kobe 650-0023, Japan
 Phone:078-351-2202
 Fax:078-371-0306

 Tokyo office
 18-1, Kaigan 3-chome,
 Minato-ku, Tokyo 108-0022,
 Japan
 Phone:03-5232-3773
 Fax:03-5232-2822

 Singapore office
 112 Robinson Road,
 #07-03/04, Room #17
 Singapore 068902
 Phone:65-6221-3486
 Fax:65-6221-3489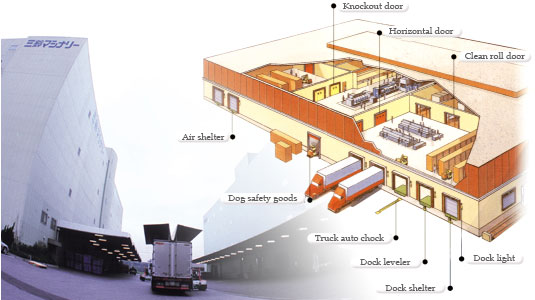 Since 1960s when it entered into technical tie-ups with logistic product manufacturers in the U.S. and Europe, the TRANSTEM Group has developed and manufactured advanced logistic products, taking full advantage of the Japanese traditional transportation techniques. Based on its long experience as a pioneer in this field, the TRANSTEM Group offers up-to-date systems. The group has earned a well-established reputation as a specialist in "dog products."
<For further product information or quotations, contact:>
(TRASNTEM GROUP) Phone: 078-351-2206 Fax: 078-351-3354
k_transtem@misuzu-mac.co.jp

Main components:
? Stroke electric dock leveler
? Pneumatic air shelter
? Truck bumper
? Heat shielding overdoor
? Truck stopper
? Power gate letter tray

ISO-DOCK(ISOlation-Dock)

This system ensures safety and speed in loading and unloading trucks at points of delivery and receipt of products or in front of refrigerator doors in a distribution center.

The system adopts various approaches to reduce logistic cost.The shape, size and material of building doors and the method of housing doors are carefully selected. It combines a variety of devices which include: a dock leveler for connecting the truck and the warehouse floor; a dock shelter for sealing a truck; a bumper for cushioning the shock given by a truck; a truck stopper which prevents accidental truck start; signals and lights which notify that a truck is approaching or leaving.

Dock shelters provide adequate heat insulation for refrigerators and air-conditioned rooms at factories and warehouses, shield them from wind, rain, dust and insects and prevent dew condensation.
MISUZU's dock shelters use ADV22 cover material which has high resistances to weather, moisture and salt. It is a top quality material specially treated to provide satisfactory resistance against friction and tearing forces generated by vertical movements of trucks.
SERIES AS air shelter

This shelter can be easily installed in the field using parts provided on the side and head panels.The head and side pads can be expanded and contracted smoothly and quietly.
When contracted, it is very compact and permits smooth arrivals and departures of trucks.As the head pad descends, it detects the truck roof and automatically stops.

Shelter color samples
(The sample colors may be different from actual colors)



SERIES-900 foam fits

The head and side pads come into close contact with three sides of a truck's back opening and shut off outside air.
In the 906 model, the head pad can move up and down to compensate for truck height difference.
In the 906RB model, the head pad can move down 1.1 m and a roll curtain can fill gaps.As the head pad moves up, the curtain is automatically rewound.
The armor pleats reduce friction caused by truck vertical movement, prevent wear of the material and contribute to shelter durability.
In the 900 series, the total width can be decreased to install a larger number of berths.

Shelter color sample
(The sample color may be different from actual color)



SERIES-400 weather guard

The new material Power Flex is used for the head, side and bottom curtains.
When many berths are installed in series, the SP model is advantageous because inter-berth panels are shared.
In the RF model, if a pressure is applied upon arrival of a truck, the rigid arm on the frame side moves up the front frame approx. 15 cm, which maintains curtain durability and minimizes damage to the frame.

FX SERIES SPECIFICATIONS

Product specifications
Load range:
6,000kg~12,000kg
Ramp thickness:
6mm~8mm
Lip thickness:
12mm~17mm
Primary power supply:
single-phase 100 VAC10 A, 1200 W




HQ SERIES SPECIFICATIONS


Hydraulically controlled, the HQ series is most advanced among dock levelers. The lip, which can be extended up to 1 m, permits quick and quiet landing on the truck bed.

Product specifications
Load range:
6,000kg~8,000kg
Ramp thickness:
8mm~10mm
Lip thickness:
0mm~12mm
Primary power supply:
three-phase 200 VAC0.75 kW
Lip extension:
600mm~1,000mm




Super BOOTH

<Dock Leveler FX + Power Flex + Booth>
The Super BOOTH is a new product which combines Dock Leveler FX (new pneumatic leveler model), Power Flex (new shelter model) and a booth.

The three-sided frame need not protrude from the outer wall.

When additional dock levelers or shelters are installed in existing facilities, special construction work is not necessary.When placed in front of the building, the Super BOOTH is immediately ready for use.

Available in two types: one for trucks of 4-10 tons and one for trucks of 2-4 tons.

Since the dock leveler, shelter and three-sided frame are integrated, construction cost and time are saved.

Heat-insulating panels are used for the outer wall.

Aluminum loading bridges

Product lineup
Load
AWB model
1200kg
KBS model
1500~4000kg
Horizontally movable
HF mode
1200~4000kg
HFB mode
4000kg
<For further product information or quotations, contact:>
(TRASNTEM GROUP) Phone: 078-351-2206 Fax: 078-351-3354
k_transtem@misuzu-mac.co.jp